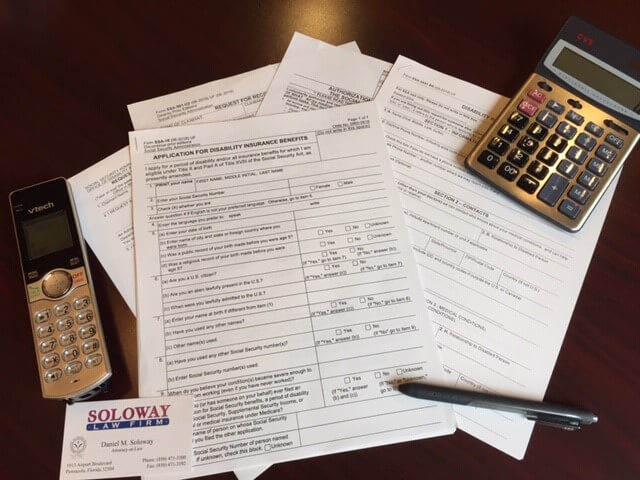 Rarely is the entitlement to and collection of disability benefits a simple proposition.  Even in the best of circumstances, you are the victim of illness or injuries that render you unable to work. 
The loss of your ability to earn money is coupled with symptoms such as pain and suffering, disfigurement, and the loss of ability to enjoy life.  The medical and nursing care and treatment expands to the point where appointments at doctors' offices quickly take the place of full-time work.  With all this as the background, you are now expected to take on the supposedly "simple" task of recovering the social security disability benefits to which you are entitled.
Whether the disability benefits you seek are to be paid by the government or private insurance companies, it won't take long before you find that the descriptive "entitlement program" is a joke. The last thing you will feel is that you are "entitled" to anything at all. Rather, the truth of the matter is that you have to fight for your benefits. You will quickly realize that the burden is on you to apply for, provide evidence for, make arguments in support of, and usually hire an attorney to get, even the most basic of disability benefits available to you and your family. In sum, the path to get the benefits you deserve runs uphill, requires tremendous effort, and perhaps most taxing of all, often requires months and sometimes years of your life before a recovery is made.
Falling within this large time period lies the great abyss, the murky waters of what you must do and how you must do it in order to achieve the greatest amount of disability benefits in the shortest amount of time. This fairly short primer on disability benefits will give you a good starting point and general understanding of what must be done to recover the benefits you deserve.
Finally, this Guide is written for the layman, not for the lawyer, claims adjuster or other professional. It is an expression of the author's opinions, based upon current law and the general factual scenarios found in the real world. It is written in summary form in order to cover the majority of circumstances. Since every disability claim is different, this Guide may not address the particular circumstances of your claim. For professional advice on your exact claim, stop reading and call me (or another qualified professional) for the legal advice necessary to build and win your particular disability claim.
Social Security Disability Benefits
Generally speaking, those persons under age 65 who have worked for at least 5 years out of the 10 year period ending when they become disabled have paid into the system of Social Security for enough time to be entitled to SSDI (Social Security Disability Insurance) benefits ( more benefit qualification information at https://solowaylawfirm.com/practice-areas/social-security/). For those who have not paid into the system for this long, or who cannot recover on a parent/spouse work record, the only benefit available to them from the Social Security Administration is SSI (Supplemental Security Income), a disability benefit payable to persons who meet a poverty-level financial limitation that pays less than $1,000.00 per month to the disabled worker regardless of any prior work history. Yet as many of our clients have told us over the years on SSDI claims, while the government loves accepting the taxes that pay for such disability coverage, it does not like to pay the benefits when due. Thus, more often than not, you have to fight for the Social Security Disability benefits to which you are entitled.
Regardless of whether you seek SSDI or SSI benefits, the medical criteria for qualifying for benefits is the same. The condition you claim is disabling must have lasted, or be reasonably expected to last, for a period of at least one year or result in death. This limitation will apply to one or more of your impairments, such as heart, lung, digestive or musculoskeletal system problems. You might suffer from blood or skin disorders that combine with a mental or nervous condition, rendering you disabled. Whether you have an illness or suffer an injury, so long as the condition is expected to last a year or more, it meets the medical time requirement. But that is only half the battle in winning a disability claim under the Social Security Act.
Vocational factors such as age, education or work skill may act in combination with your functional limitations to render you disabled from employment. For instance, the SSA may find that while your medical problems may keep you from being able to perform your past work, you may still be able to perform lighter work that exists in the economy. But that doesn't mean you should lose your claim of entitlement to disability benefits. To the contrary, if you also show that you are age 55 or over, have a high school education and certain skills that do not qualify you for lighter work, the SSA may still find you entitled to benefits. The more limiting these additional vocational factors are, the more likely that the SSA will find that they reduce your real ability to compete successfully in the workforce for available jobs, thus rendering you "disabled" under the SSA's own rules and regulations.
For example, let's say that due to neck and back problems, your doctors say that you cannot perform the heavy construction work you've done in the past and that you are only able to do very light, desk-type work. Many lawyers refuse to accept your disability case because you are still able to do such "sedentary work," and the SSA denies your claim. But let's also look at your "vocational factors," such as if you are age 56, have only a 10th grade education, and your construction work from the past was skilled but such skills in reality just help you perform work much heavier than desk work. Under certain Social Security regulations called the "Grids," the SSA is still directed to find you disabled from employment and entitled to disability benefits. Simply put, your "vocational factors" make it so unlikely that you would be hired over younger individuals in a competitive workforce, that the government agrees that you are still effectively "disabled" despite the fact that medical restrictions alone do not restrict you from performing desk work. While the novice attorney or the non-lawyer may not accept your claim for representation, the seasoned social security practitioner will do so because he or she will know that both medical and vocational factors must be considered in your claim for disability benefits under the Social Security Act.
Certain medical benefits flow from the receipt of SSDI and SSI benefits. When you win your SSDI claim, the first 5 months after the onset of your disability onset date are not payable, but monthly benefits flow thereafter. In addition, two years after you begin receiving these SSDI benefits, for a premium taken from each monthly benefit, you will receive Medicare insurance coverage. For persons awarded SSI, they have no similar 2 year waiting period to receive medical benefits. In fact, they receive medical benefits from the onset of SSI payment (which have no waiting period), but they receive Medicaid rather than Medicare insurance coverage.
Make sure to list in your SSDI benefit application the name(s) and ages of your spouse and minor children, as a successful claim often results automatically in the receipt of additional dependent family member benefits up to what is called the "family maximum." For instance, each of your minor children will usually qualify for benefits, and limited benefits for spouses caring for your children under the age of 16 are available if he or she meets certain income limits on their own.
The Social Security Act also extends disability and insurance benefits to certain persons separate and apart from the wage earner, poverty-stricken disabled persons and their family members. For example, "auxiliary" benefits under the Act may be paid on the work record of other persons, such as disabled widows/widowers who recover benefits on the work record of the person that these persons had been married to. Such benefits may also be payable to surviving divorced spouses as well, so the fact that these persons were divorced from the wage earner is not always a disqualifying event. Instead, factors such as the time between the wage earner's death and the onset of the widow's disability (usually no more than 7 years), and the age of the applicant (i.e., the widow/surviving divorced spouse must be between that ages of 50 and 60 and disabled from employment, or over age 60 regardless of any disability), act as the qualifying factors for the receipt of these "auxiliary benefits" under the Act.
You can file your application for SSDI online (https://www.ssa.gov/benefits/disability/) or in person at your local Social Security office. For SSI you cannot apply online unless you are also applying for SSDI but you may telephone your local SSA office and that calling date may be used as the date of application so long as you file (almost immediately) thereafter in person. Be prepared to answer the "fill-in-the-blank" application questions with the names and addresses/other contact information of your medical care providers and your former employers, as well as other information that will allow the SSA to investigate your claim.
The SSA investigation of your claim is done by a state agency known as the Division of Disability Services (DDS), which the federal government funds in order to develop the medical and vocational evidence necessary to resolve your claim. At the Soloway Law Firm, we actually help our clients at the initial application stage, in order to give the best and earliest opportunity to build and win their social security claims. We request medical records and reports, prepare medical source statements for completion by your physicians and other providers, and work toward a presentation of your best disability claim possible under the facts and circumstances of your particular claim.
Should the initial application be denied, you will receive a "Notice of Disapproved Claim" which affords you only sixty (60) days (plus 5 days mailing time added) to file your appeal. This is known as a "Request for Reconsideration," the second of 4 possible steps of the SSA's process of administrative review of your claim. At the Soloway Law Firm, we file such a Request for Reconsideration almost immediately upon our receipt of your initial claim denial, and set to work on perfecting your appeal with all additional evidence available to address what the DDS suggests are the shortcomings of your initial claim. Should the claim be denied again on Reconsideration, you will receive a "Notice of Reconsideration," giving you 60 days to file your next appeal, called a "Request for Hearing" before an Administrative Law Judge (ALJ).
It is often at the ALJ level that our clients win their cases. Statistically speaking, this is true across the United States, where the largest percentage of successful disability claims occurs at this third step in the administrative review process. Many of our clients believe this is true because this stage is their first real opportunity to testify before a real live judge in support of their claim. At the Soloway Law Firm, we have purchased all the video hearing equipment necessary to allow our firm to conduct these hearings from the conference room at our Pensacola office, which the SSA has expressly approved of so that our clients do not have to travel to Mobile, Alabama for their hearings before the ALJ. This helps reduce our client's anxiety over the hearing where they must testify under oath before the judge. While the judge stays in Mobile, Alabama, our clients are able to see the ALJ on our large television monitor and hear all the judge's questions while they sit comfortably in our conference room in Pensacola.
While most of our clients win their case through the ALJ's written decision following the hearing, we do not automatically abandon those few clients who receive an Unfavorable Decision from the ALJ like most other social security lawyers in Northwest Florida. Instead, we file a further appeal known as a "Request for Review" by the Appeals Council in Falls Church, Virginia. And should this appeal be denied, all of the attorneys at the Soloway Law Firm have been admitted to practice before the federal courts that would hear our clients' further appeals if rejected by the Appeals Council, including the U.S. District Court for the Northern District of Florida; the U.S. Court of Appeals for the Eleventh Circuit in Atlanta, Georgia; and the U.S. Supreme Court in Washington, D. C.. We normally have between 2-5 federal court appeals pending in one or more of the courts for our social security clients, seeking reversal of an ALJ's decision denying their disability benefits. To our knowledge, no other social security lawyer in Northwest Florida files such federal court appeals for their clients, something Mr. Soloway has done consistently for over 35 years. That is why we say to our clients, "Don't Give Up" on your social security or SSI claim.
The pursuit of your Social Security Disability Insurance (SSDI) and Supplemental Security Income (SSI) benefits is a time-consuming and complicated process.  At the Soloway Law Firm, we are dedicated to help you succeed in winning your disability claim, from helping you complete your application, to holding your hearing before the judge in the comfort of our Pensacola office (instead of the Mobile, Alabama courtroom), to handling your appeals through the entire administrative process and even at times through the federal court system.  No other local law firm handles your case in the way and to the extent we do at our law firm.  This tried-and-true approach has resulted in thousands and thousands of approved claims paying disability benefits to our clients for their entire life and providing Medicare and Medicaid insurance so our clients may secure the medical care they need in the future.  This is the natural result of the hard work we put in each and every day for our social security and other insurance disability clients- to take this heavy legal burden off their shoulders the day we are hired, and to build and win their disability claim so they never have to go through this difficult process ever again.  That is what we do at the Soloway Law Firm.